The Old Quarter Street Tasting & Heritage Road Tour By Walking
Duration : 03 hours on Everyday by walking
Departure time : at 7h30 AM to 10h30 & 14h30 to 17h30 On Everyday
Price : 35 USD/01 Person / Group tour - Maximum of 10 People
Included : Welcome Happy Water , All street foods at different street food vendors, Egg Coffee at Train Street and English Speaking Tour Guide

Depart from 78a Tran Nhat Duat Street to O Quan Chuong City Gate:
Begin your journey at 78a Tran Nhat Duat Street and head towards O Quan Chuong, which is one of the ancient city gates of Hanoi. It's a wonderful starting point for your heritage tour.
Explore the Old Quarter:
As you walk through the streets of the Old Quarter, you'll be surrounded by narrow lanes, old colonial architecture, and a bustling atmosphere. Take your time to soak in the unique ambiance of this historic area.
Sample Street Food:
One of the highlights of Hanoi's Old Quarter is its street food. Be sure to try some local delicacies along the way. You might want to try dishes like pho (Vietnamese noodle soup), banh mi (Vietnamese sandwich), or bun cha (grilled pork with vermicelli noodles).
Visit Dong Xuan Market:
Dong Xuan Market is a massive indoor market where you can find a variety of goods, from clothing to electronics, souvenirs, and local products. It's a great place to experience the local market culture.
Walk to Long Bien Bridge:
Long Bien Bridge is an iconic symbol of Hanoi. It's a historic bridge with a unique design that crosses the Red River. The bridge offers a great view of the river and the cityscape. You can walk along the pedestrian pathway and capture some great photos.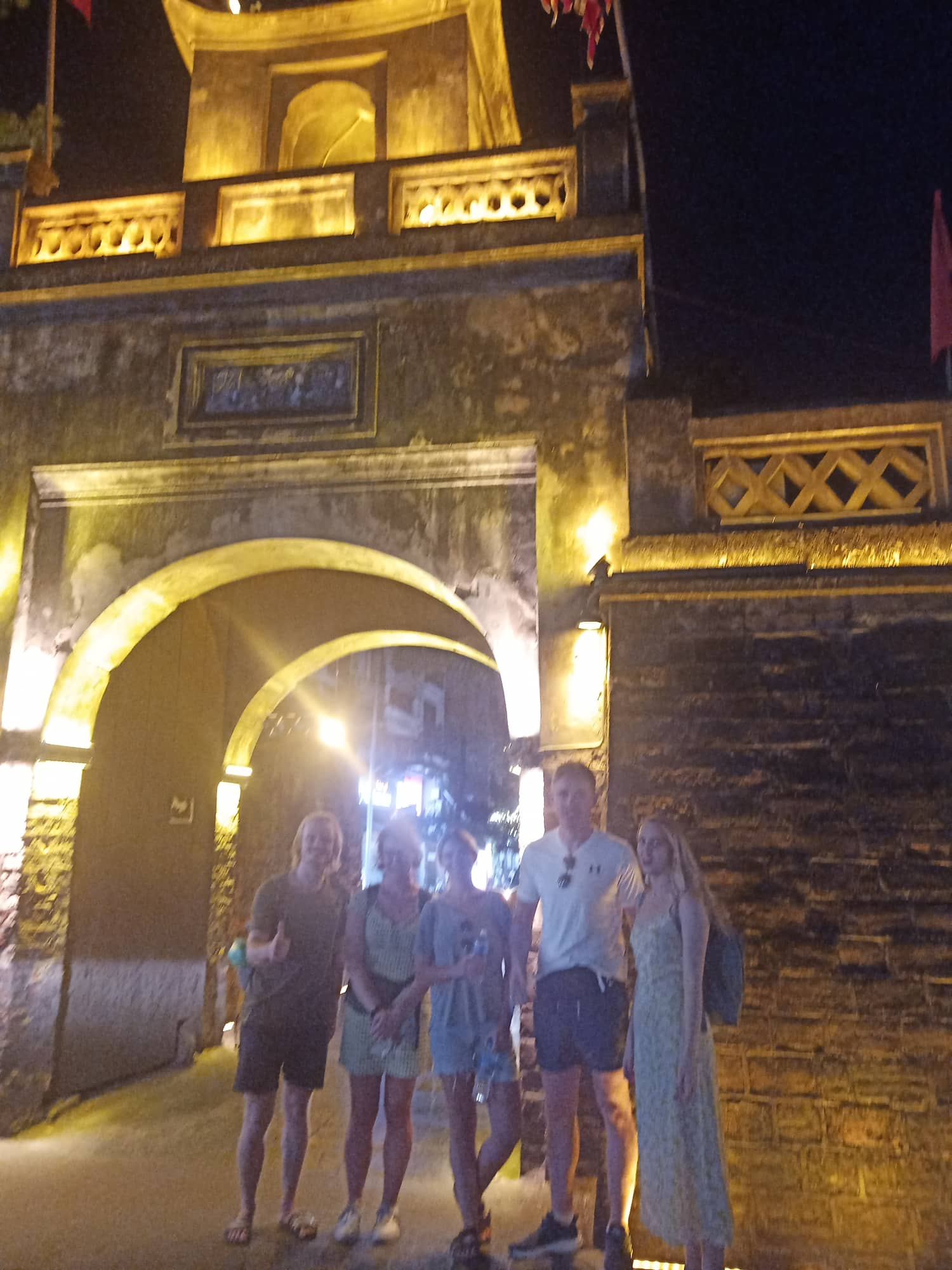 Experience Train Street:
Train Street is a narrow street where a train track runs right through the middle of a residential area. It's a unique sight to see as the train passes through close to the houses. Be sure to take precautions and stay at a safe distance when the train is approaching.
Finish at Train Street with Egg Coffee:
After experiencing Train Street, head to a local cafe to try a famous Vietnamese specialty: egg coffee. This unique drink consists of whipped egg yolk, sugar, and coffee, creating a creamy and sweet beverage. It's a perfect way to end your walking tour.
Inclusions:Local English speaking guide, all food items as per itinerary, one bottle of water, one egg coffee or beer.
Exclusions:Items of a personal nature, additional food and drinks, tips / gratuities for local guide
Note: Remember to take your time, enjoy the sights, interact with locals, and immerse yourself in the culture and history of Hanoi's Old Quarter. Make sure you have comfortable walking shoes, some local currency (Vietnamese Dong) for purchases, and a camera to capture the memorable moments of your heritage tour.
Last minutes & fast booking = Calls/Chats/Whatsapp using : +84942 006 888 / +84966 960 288
Email address: hanoistreetfoodtours@gmail.com
Find our location on google map - 78a Đ. Trần Nhật Duật, Đồng Xuân, Hoàn Kiếm, Hà Nội



 Best Price


 Leading food travel company in Hanoi since 2013


 Specialize in organizing street food tours only


 Secure your booking in advance online without any deposit


 Fully refunded if you do not enjoy our food tours
Exploring the Old Quarter of Hanoi through a street food and heritage road tour by walking can be an incredibly enriching and memorable experience. Here are some reasons why you should consider taking this tour
:
Cultural Immersion: The Old Quarter is the heart and soul of Hanoi, known for its rich history and vibrant culture. Walking through its narrow streets allows you to immerse yourself in the local way of life, witness the traditional architecture, and interact with locals.

Authentic Cuisine: Hanoi's street food scene is famous worldwide, and the Old Quarter is a hub for diverse and delicious culinary offerings. By walking through the streets, you have the opportunity to sample an array of authentic dishes, from pho (noodle soup) and bun cha (grilled pork and noodles) to banh mi (Vietnamese sandwich) and egg coffee.

Heritage and History: The Old Quarter is a historical area with a legacy dating back over a thousand years. Walking through its streets gives you a chance to see and learn about ancient temples, pagodas, communal houses, and French colonial architecture. Each corner has a story to tell, and a walking tour allows you to delve into this rich history.

Local Interactions: Walking through the Old Quarter enables you to interact with local vendors, artisans, and residents. You can observe their daily routines, learn about their crafts, and even engage in conversations that provide insight into their lives and perspectives.

Hidden Gems: While walking, you're more likely to stumble upon hidden gems that you might miss if you're traveling by vehicle. These could be tucked-away cafes, artisanal shops, or unique cultural sites that add an extra layer of authenticity to your experience.

Photography Opportunities: The Old Quarter's bustling streets, vibrant markets, and traditional architecture provide excellent photography opportunities. Walking at a leisurely pace allows you to capture candid shots and details that might otherwise go unnoticed.

Environmental Considerations: Opting to walk instead of using motorized transportation aligns with sustainable travel practices. Walking is a greener way to explore the city and reduces your carbon footprint.

Exercise and Well-Being: Walking is a healthy way to explore a city. The three-hour tour provides a moderate amount of physical activity, helping you stay active while enjoying your travel experience.

Sense of Adventure: Walking tours encourage a sense of adventure and curiosity. Navigating the streets on foot allows you to get pleasantly lost, discover new things, and create unexpected memories.

Local Perspective: Experiencing the Old Quarter on foot allows you to see the city from a local's perspective. You can observe the pace of life, witness daily rituals, and gain a deeper appreciation for the city's unique charm.
In summary, a walking street food and heritage road tour through the Old Quarter of Hanoi offers a blend of cultural immersion, culinary delights, historical exploration, and local interactions that collectively provide an unforgettable and enriching travel experience.
TripAdvisor Traveler Rating

Based on 24,369 traveler reviews
TripAdvisor Ranking #1 of 224 things to do in Hanoi
Most Recent Traveler Reviews

Nov 2, 2018:

"AMAZING!!!!"

Nov 2, 2018:

"Wonderful Way to Experience Local Life"

Nov 2, 2018:

"Interesting"

Nov 2, 2018:

"TRADE FOR CENTURIES"

Nov 2, 2018:

"Bustling chaotic but exciting..."
© 2018 TripAdvisor LLC